A FIRST CHRISTMAS
BY
HELEN GIBBS POHLOT
Margaret Elward met the love of her life in Philadelphia sometime during the year 1880. His name was Michael O'Sullivan, a tall, intelligent, Irish immigrant bursting with a passion for success.
Not even his love for Margaret could stop him from achieving his dream.  At thirty-seven, after less than a year of courtship, Michael left Philadelphia and a heartbroken Margaret. He knew that he would never be good for her if he didn't pursue a better life. He hoped and prayed she would wait for him and someday share in his success. Michael promised to send for Margaret once he was established.
During his travels, Michael and his brother Timothy may have learned about Bishop John Ireland, of the St, Paul, Minnesota Diocese's efforts to help the plight of Irish settlers in the Eastern cities. Bishop Ireland encouraged Irish immigrants to come out to the rural, fertile farmland of Minnesota.  In 1885, after a brief career as a stevedore in the Ohio Valley, Michael acquired 160 acres about five miles from the town of Adrian, Minnesota, under the Homestead Act of 1865. He fulfilled the requirements for land ownership. He resided on the land for three years, built a dwelling, and barn, and worked the land.
Michael was now ready to send for Margaret. After almost nine years of waiting, her letter finally came. During Michael's absence, Margaret bore several tragedies that often made her question whether she should continue waiting for the man she once loved so dearly.
Now forty-one, Margaret was no stranger to difficult decisions. She'd crossed the Atlantic at sixteen from County Wexford, Ireland and endured more than most people could handle in a lifetime.
In the summer of 1889, Margaret kissed her brother and sister goodbye in Philadelphia and boarded a train headed for the untamed prairie and the man she loved.  Courage, her faith in God, and undying love for Michael replaced the fear of uncharted territory and uncertainty.
Margaret arrived in Adrian, Minnesota shortly before her wedding date of July 2, 1889.  Michael greeted her with open arms.  She spent the days prior to her wedding with either Michael's brother Timothy's family or at the home of fellow members of St. Adrian's Church, people noted for their warmth and welcoming way.
After the wedding, life began on the farm.  Margaret and Michael shared a remarkable love that, although interrupted for a time, now flourished.  Margaret helped Michael with everything. She loved her new role as a wife and farmer.  The 160 acres of land proved fertile as they grew everything needed to survive and prosper.  They became a devoted team with a unified goal of a successful farm and home.
Michael promised to build Margaret a house that would make her proud.  While the small wood shanty provided adequate shelter, Michael wanted better for Margaret. She didn't care; with Michael by her side, she was home.
A few days before Christmas in 1889, Margaret and Michael, two newlyweds, happily gathered everything they needed for a festive dinner.  Margaret wanted their first Christmas together to be wonderful. They were beyond happy and thankful they were finally together.
Michael looked at her every day and thanked God. He was very proud to call her his wife and hoped that someday they would have children.
Margaret busied herself making pies, preparing the festive meal for their first Christmas.  She invited Michael's brother Timothy and his family, who owned an adjacent farm, to join their celebration.  Margaret proudly displayed her new dishes, a wedding present from her family in Philadelphia.
Dinner looked perfect.  Everything was right with the world.  Michael looked lovingly across the table at Margaret, the only woman he ever loved.  They said grace together, thankful for the delightful meal.
The following year Michael and Margaret welcomed a baby girl named Helen and another daughter, Mary Margaret, in 1892.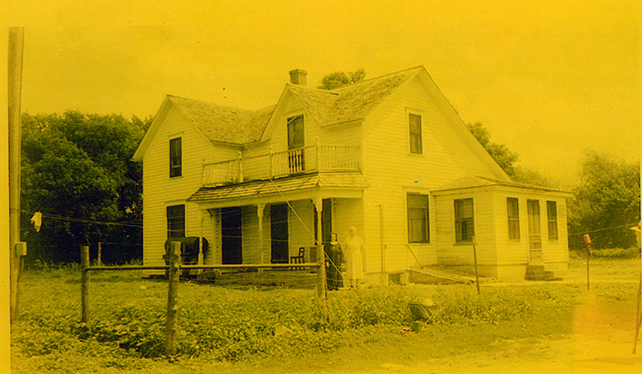 After all the hard work and sacrifice, Michael and Margaret's dream came true.  They had each other. He built a fine house and had one of the most successful farms in the county.  According to my grandmother Helen, her parents planned and dreamed of sending their daughters to college. The O'Sullivan house around 1950.  The woman on the right is Helen.
Michael and Margaret shared twelve happy Thanksgivings and eleven Christmases together on their farm until death and sickness derailed their happiness.
Although the journey of these two-extraordinary people was fret with sacrifice, sadness, and was far too short, their incredible love story prevails.
During the holidays, most people give thanks for their families. I give thanks for people like my great-grandparents whose fascinating story is only briefly deduced and described in this story.
Before going to Adrian, Minnesota, my great-grandparents, Margaret and Michael, were just names to me.  What I discovered with the help of Annette Gibbs, Dr. Bill Gibbs, Meredith Vaselaar, Librarian at the Adrian Library, and the wonderful people of Adrian, Minnesota is a triumphant story of exceptional courage, faith, trust, and fortitude in building a successful life from nothing but hard work, ambition, dedication, and grit.
Michael and Margaret O'Sullivan bravely took a chance despite insurmountable odds. They came from Ireland to a new land of promise. They grasped that promise and secured it. They never gave up in life or in each other.