AUTO TRAIN SUPERSTAR
BY
Helen Gibbs Pohlot
Driving from Philadelphia to the Auto Train in Lorton, Virginia usually takes four hours. Last week, in the absence of Interstate 95 traffic, I made it in just over three.
It was a little before noon when I arrived at the station.  No cars were in line, so I pulled into the side parking lot. I entered the station and got my ticket from a representative who informed me that my vehicle needed to be checked in by 2:30 PM.
With over two and a half hours to wait, I decided to pay a visit to one of my favorite outlet malls called Potomac Mills, a few miles from the station. The stores are great with some of my favorites that sell quality things at half the price.
After an enjoyable shopping excursion, I headed back to the Auto Train Station.  Several cars were waiting. I took my place in line.  The person at the gate placed a number on my car, and I drove ahead, stopped and got out with my overnight bag.  A few minutes later an attendant drove my car onto the two-story Auto Train.
I entered the station and joined the group of passengers headed to Sanford, Florida.    At about 2:45 PM, an announcer told us we could board the train; first the sleeping car passengers, then coach.
We all went to our designated seats or rooms. The train left shortly before four o'clock passing Quantico and several other interesting sites.
By 5 PM, some people were getting hungry and anxious for dinner. At check in, all Auto Train passengers receive a meal ticket based on their desired time to eat dinner, either 5, 7 or 9 pm.  The train attendant announced that it was now time for the five o'clock dinner.
People riding in coach, eat in the coach dining car while the sleeper car passengers have their own dining car. Attendants seat people in a group of four. If you are traveling alone or in pairs, you will sit with strangers which can be very enjoyable and entertaining.
At 7 PM, I heard the announcement for the second dinner seating in the coach dining car.  I proceeded with many other passengers to the dining car.
Standing in the middle of the car directing people to their seats was a very tall man who introduced himself as "Big Chris".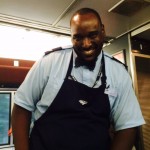 Big Chris had an infectious smile, booming voice, commanding presence and a comedic flair very similar to Steve Harvey, host of the TV show, The Family Feud.
He greeted every guest with a huge smile and funny remark, making them feel special, much like a frequent customer would experience in an upscale restaurant. No one was left out.
Big Chris engaged the children with high fives and questions that drew howls of laughter.  All eyes and ears were on Big Chris.
Suddenly you looked around, and a whole dining car was smiling spurred on by the humor and personality of this man.
I thought to myself how lucky this company is to have an employee with such talent, skill, and personality, plus the ability to do stand-up comedy.
As he worked his way up the aisle taking orders and making conversation, people watched and listened.
Four of the most somber people I've ever seen were sitting at the table next to me.  They had never taken a train before but were on their way to a function in Florida.  Getting them to talk was like pulling teeth.
The foursome seemed very awkward not knowing what to do. Big Chris recognized this and greeted them with his winning smile and jovial personality. Within seconds he had them right at ease. He asked questions and answered anything they wanted to know about the menu and train.  Soon they were laughing and enjoying themselves.
After turning the somber guests into happy diners, Big Chris focused on our table.  I was sitting with a woman and her incredibly shy 18-year-old daughter, Emily.  We only had three people at our table because we were the last to be seated.
The mother was not in the best frame of mind. She just moved from the Bronx. She was on her way to Orlando where Emily would soon start Nursing school.
Leaving family and friends in New York was very hard for Emily's mom.  These two women were experiencing a significant change. Emily seemed scared and shy while her mom looked exhausted and weary.
Emily's dad and uncle were driving the moving van to Orlando. They suggested that Emily and her mom take the train to get some much-needed rest and maybe have a little fun.
Enter Big Chris! With a huge smile, he said, "Good evening ladies. How are you? Do you know what you would like to order?"
He looked over at me.   I started to say, "I'll have the……."
"What makes you think I was asking you first?" he said.
"Oh My God! I'm sorry.  You just looked over at me, and I figured you were asking me what I wanted to order," I replied.
"I was looking at you because you look good," he said with that infectious smile.
I instantly burst out laughing, so did Emily and her mother.  I guess I should have been insulted by my dinner companion's laughter, but it was obvious.  No way did I look good. With about two hours sleep the night before, rumpled clothes, no make-up, and frazzled hair, I looked anything but good. However, I was never more grateful for an undeserved compliment.
We all had a good laugh. Then Emily, who by this time is looking down, praying to God she doesn't have to talk, knows it's her turn to order.
You better not be laughing over there, baby girl?" Big Chris said to her which instantly brought a smile to Emily's face.
"There you go," he said. "I knew I could make you laugh."
Emily ordered with her head held high and even inquired about the dessert choices.
Big Chris then turned and looked at Emily's mom. "Now Mama, what would you like to have for dinner?" he asked.
I don't remember what she ordered, but by the time she was finished talking to Big Chris, her weariness disappeared.  She seemed relaxed and somewhat happy about her new adventure.
The transformation I saw amongst the diners aboard the train was remarkable. This gifted man knew just what to say in a friendly and amusing way. Big Chris brought something out in each of us.  We all talked, joked and had a wonderful night.
I asked Big Chris if I could take his picture.  He happily replied, "I exfoliated for this today."
Once again, Big Chris, had the entire dining car passengers laughing.
Just ten months later, I was back on the Auto Train, this time from Sanford Florida to Lorton, VA.
When I heard a booming voice from the next dining car say, "Did we give you service with love tonight?" I instantly knew an exceptional dining experience awaited.
Big Chris hasn't changed. I watched him hold court with a repertoire of funny banter that delighted passengers.
A group of veterans gathered around him when someone asked if he ever played professional football.
"Yes, I played Tight End," Chris said as a barraged of questions followed.  With everyone vying for his attention, I couldn't hear what team he played for, but my dinner companions said it was Oakland.
We all enjoyed another wonderful dining experience hosted by Big Chris.
Big Chris taught us all a valuable lesson.  When you treat everyone equally with respect, courtesy and a touch of humor, the world is a better place.  People feel happier and more connected to each other.
While most of us will never recall what we had for dinner aboard the Auto Train last night or that evening in August 2016, we will all remember its' superstar, "Big Chris."